Beja is a governorate located 105 km (60 miles) from Tunis (the capital) in the north of the country.
It's famous for its breathtaking natural sceneries, captivating archaeological World Heritage sites, and its iconic Fifth Bridge.
Beja was an important city during the Phoenician, Carthaginian and Roman eras. The presence of these ancient civilisations can be seen in many of Beja's sites and museums.
Tourism is an under-exploited sector in this governorate despite the many attractions it has to offer, and its accessibility.
Beja is conveniently located 65 km (40 miles) from the International Airport of Tabarka and 100 km (62 miles) from the ports of Bizerte. It is easily accessible thanks to the highway, Tunis-Oued Zargua, and can also be reached via the rail network that links the capital to the west of the country.
Follow our guide to discover the 10 best things to do and see in Beja.
1- The Ruins of Dougga
Dougga is an archaeological and World Heritage site spanning 65 hectares. This city contains the best-preserved ancient Roman ruins in all of North Africa. Its impressive ruins give visitors a window into ancient Roman life.
---
Among the most important monuments to see in this site are :
The Capitol: Built in AD 167, this Roman temple was chiefly dedicated to Rome's protective triad: Jupiter, Juno, and Minerva. The Capitol is one of the most well-preserved ancient sites in the world. The temple front's Corinthian columns stand at a towering 8 meters tall, on top of which is an impressively-conserved pediment.
The Temple of Saturn: Constructed during the reign of Septimius Severus, this temple was principally dedicated to Saturn, the ancient Roman god of time, abundance, and wealth. It is comprised of a vestibule, three cellae, and a courtyard with a portico. Its remains overlook the valley of Oued Khalled.
The Theater: Erected in AD 168, the Theater served as the principal site of entertainment for Dougga's 5000 inhabitants. Decorated with a beautiful facade of Corinthian columns and a mosaic-tiled stage, its architecture enchants visitors. It remains a site for performances, particularly during the time of Dougga's annual summer festival.
The Temple of Juno Caelestis: Built between AD 222 and 235, this temple was dedicated to the ancient Roman goddess, Juno. The temple's tenemos are shaped like a crescent, a traditional symbol of Juno.
Victoria Church: Constructed at the end of the 4th century, this church remains the only Christian building excavated at Dougga. Its unusual yet charming design attracts visitors who delight in admiring this relic of North African Christendom.
The ruins include many other temples, baths, mosaics, an amphitheater, and a circus.
---
In a few words, if you're planning to visit Tunisia, you must visit Dougga!
Dougga is just one hour from Tunis by car over roads that are well-marked and signposted.
There is parking and coffee for your enjoyment. Tour guides are available to conduct detailed tours. Don't miss out on this historical city!
The Capitol at night © Issam Barhoumi
2- Teboursouk City
After the ruins of Dougga, consider visiting Teboursouk. The town's Byzantine Fort is a site you don't want to miss with its beautifully detailed designs and decorations on its walls. Locals call this fort "Al-Gsar," meaning the Castle. Take a moment to visit the old town and the great mosque of Teboursouk as well.
Teboursouk is a tiny town and just 6 km away from Dougga. After spending a few hours on this tour between Dougga and Teboursouk, you'll most likely want to sit down for a delicious meal. Tebersouk is the recommended place to enjoy your first local dish in Beja!
Teboursouk © By Mohamed Mehdi Cherif
3- 5th Bridge
For more than 100 years, this bridge has been the symbol of Beja. To sum it up in one word, it is iconic.
One of the most majestic places in Tunisia, visitors can enjoy the beautiful fields of sunflowers, meditate, and wonder!
Take your picnic food, spend a few hours here, and immerse yourself in the charms of mother nature!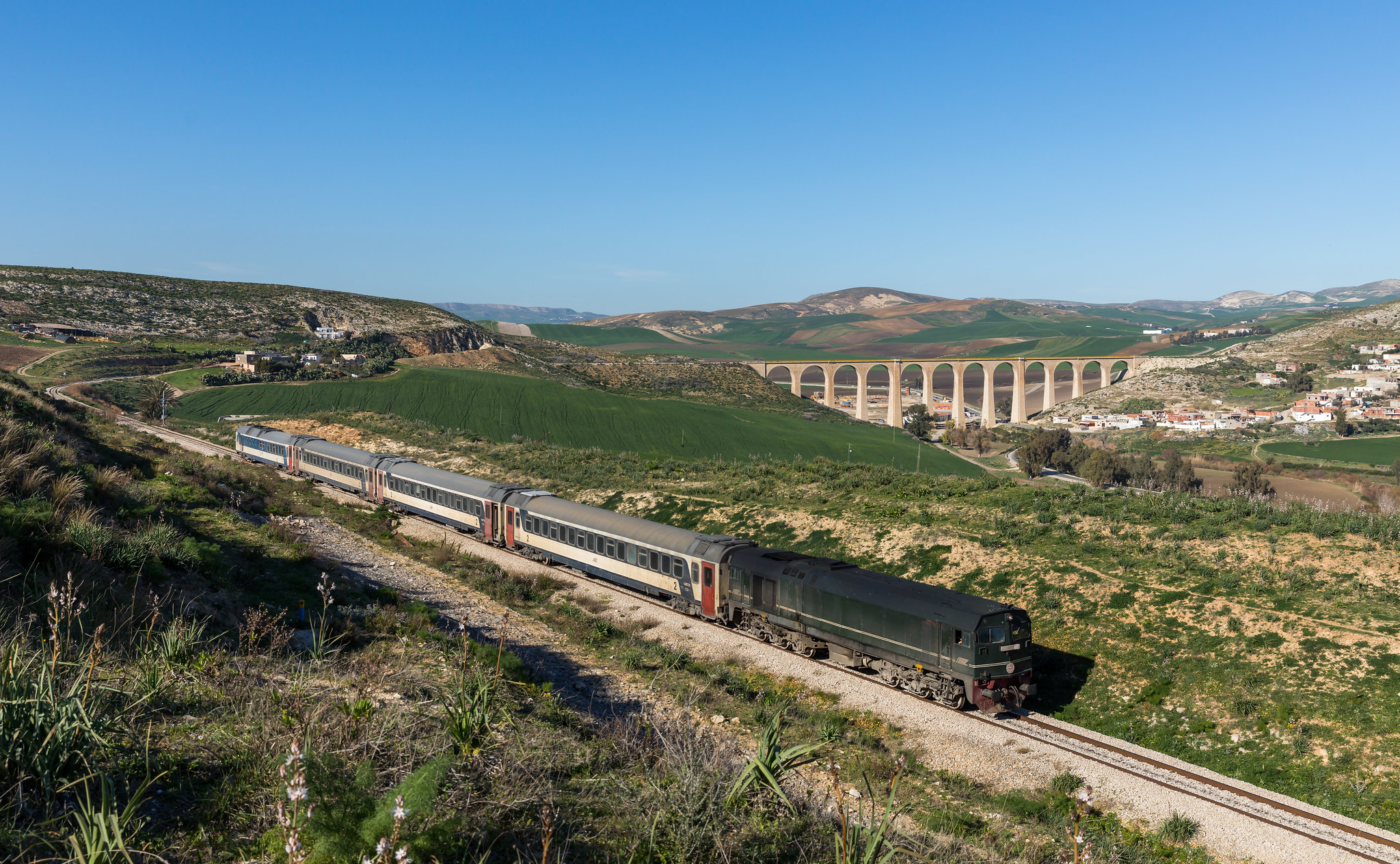 A Bombardier-built 060-DP has just crossed the "Fifth Bridge of Beja" from Tunis to Ghardimaou. Taken near Beja, Tunisia. © Kabelleger, David Gubler.
4- Djebba City
Djebba is a small hilltop village in Beja. It's known for its archaeological and prehistoric wealth. Djebba or Thigibba Bure (the village's old Roman name) was a lively city during the Roman era. The archaeological site includes megalithic tombs, inscriptions and other ruins that may indicate the presence of Numidian and Carthaginian ruins. However, unlike Dougga, The ruins are dispersed throughout the city.
This tiny hilltop city is also known for its nature and beautiful landscapes. On top of that, its economy is based on agriculture. There is a variety of fruit trees that bear figs, quince, and olives. Take time to visit the beautiful natural park, mountains, and caves as well!
It's also recommended to do some shopping to bring back some
memories from the city.
5- Testour City
Testour was established by Muslim and Jewish communities fleeing the Spanish Inquisition in the early 16th century. Therefore, this city is characterized by its Moorish architecture with its blend of Spanish and
Mudejar influences, making it one of the most notable cities in Tunisia.
The Great Mosque is one of the most beautiful sites in Testour where you can feel the touch of the Andalusian style. Located in the center of the old town, the mosque has an octagonal shaped minaret that stands 23 meters tall. The facade of the minaret is opened with small double windows decorated with glazed inscriptions and a mechanical clock at the top.
The clock runs counterclockwise, to make the people of Testour feel like time could bring them back to their homes In Andalusia someday.
The prayer hall of the mosque and the courtyard (or the Sahn), located in the center of the mosque, can accommodate up to 1000 worshipers.
Testour is perched on the hills of Medjerda valley. It was built on the Roman remains of Tichilla, the old city.
Each summer, the city hosts an international festival of Malouf and traditional Maghrebi music.Testour remains a popular site of pilgrimage for Sephardic Jews who wish to visit the tomb of Rabbi Fraji Chaouat, a pious individual venerated by the local Jewish community during the 17th century.
6- Nature
Beja is the home of many awesome landscapes and rich natural sites. Among these sites are the Sidi el Barrak Dam near Nefza and Cap Negro, the Sidi Salem Dam near Oued Zarga, and the Khroufa Nature Reserve Museum, an ecotourism circuit in the Khroufa Mountains.
Sidi Al Barrak Dam. One of the biggest dams in Tunisia located in Beja © By Youssef Drira
7- Ain Tounga: a small Dougga
If you enjoyed Dougga then you might consider visiting Ain Tounga as well.
Ain Tounga is an archaeological site that was built during the Punic era and was renamed Thignica during the Roman era. The monuments of Ain Tounga are smaller and less preserved than those of Dougga, but it includes many important parts of the old Roman cities.
The site is also linked to Saint Augustine of Hippo, one of the Church Fathers, for his sermon which remains famous today.
Ain tounga © tunisiatourism.info
8- Restaurants
- Dar Ejdoud Dougga : A restaurant near the Dougga ruins. It includes a swimming pool and is built with traditional architecture.

- Dar Beja : Located in Beja city. Here, you can order "Couscous Bourzgene," a Beja specialty. It's a famous Couscous usually made at weddings that is made of white couscous with lamb, pistachios, pine nuts, walnuts, and raisins.

- Borj Lella : Located in Nefza. A restaurant with a wonderful landscape view and delicious Tunisian cuisine.

9- Hotels
- Alrawabi Hotel : Located in Nefza. You will find comfortable rooms equipped with a TV, private bathroom, showing, and air conditioning. There is also a garden, terrace, and free parking among other facilities.

- Verger des Montagnes : Located in Testour, the amazing Andalusian city. This cottage, overlooking the slope of Mount El Hindi, is only 6km away from Sidi Salem Dam. If you're planning to visit Testour and Sidi Salem Dam this is a good place for accommodation.

10- Cap Negro
Beja also has a scenic coastal city called Cap Negro. This is a paradise located between the Mediterranean Sea and the forest. Only a few people know about this amazing beach so make sure to visit it and enjoy its tranquility and serenity. The road there is a bit rocky, but it's totally worth it!
Nothing quite like camping at Cap Negro in Beja, nestled between the forest and the crystal-clear waters of the Mediterranean sea © By Youssef Drira